Lighting the Way to a Smart Energy Future
What is an LED light bulb?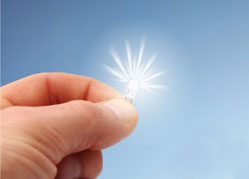 A light-Emitting Diode or LED is a compound semiconductor device that converts electricity into light. One or more LEDs combined  with a driver, housing  and other components create a complete LED system.
Light-Emitting Diodes (LED) light bulbs are a new, more efficient, cost-effective way to light your home or business environment. LED bulbs are vastly superior to their Florescent and Incandescent counterparts.
How LED Light Bulbs are
Superior
Longer Life Expectancy
LED Light bulbs last drastically longer when compared to Florescent and Incandescent bulbs. LED light bulbs have a minimum lifespan of 25,000 hours. This is equivalent to 22 years based on the average use of 3 hours a day per light bulb.


Uses Less Electricity and Saves You Money


An Incandescent light bulb uses on average 3280 kWh/yr, while fluorescents use significantly less power at 770 kWh/yr. LED light bulbs use approximately 330 kWh/yr, less than half of the Fluorescent's usage, meaning you will save more than half the money you spend every year on electricity from light bulbs when you switch from Fluorescent to LED.
Reduced Environmental Impact


Obviously by using less energy the LED light bulb will produce less carbon emissions. 30 Incandescent bulbs would produce over 2 tons in carbon emissions. The same amount of florescent bulbs would produce 481 kg/yr while 30 LEDs create 206 kg/yr.
Not only do LEDs severely reduce your carbon footprint, unlike florescent bulbs, they contain no Mercury, which is harmful to our environment. When florescent light bulbs are disposed of, the mercury inside them is released and can be extremely toxic towards wildlife as well as humans. With LED this won't weigh on your conscience.
Durable and Resistant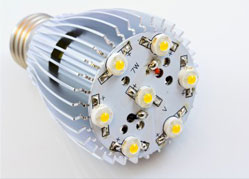 LED light bulbs are very durable. You could drop one on the floor and it is unlikely to break, unlike other bulbs. Not only that, incandescent light bulbs have a slight sensitivity to low temperatures and humidity, florescent lights are very sensitive, while LEDs are completely resistant to both.
Not Affected By On/Off Cycling


Ever wonder how turning your light switch on and off may affect the light bulb? The old incandescent lights can deal with this fairly well, but have some adverse affects when it happens. If you were to do it to a florescent light it would drastically reduce its life expectancy. You can switch your LED lights on and off as many times as you like without it having any negative affect whatsoever.
Instant Light Strike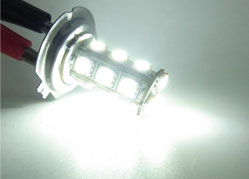 Probably the best thing about the old incandescent lights were how quickly the turned on. Your room would be lit with the flick of a switch. But how annoying it was when we switched to florescent and had to deal with that very slow warm up: you would switch a light on but it would take a long time for it to reach its full brightness. LED lights, like incandescent, require no warm up and have an immediate light strike.
LED Warranties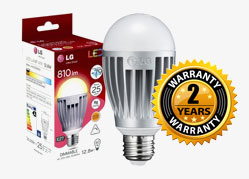 When purchasing an incandescent and florescent light bulb you would not be guaranteed that bulb would last more than a few months if it were faulty. The good news is LED light bulbs from the best brands come with manufacturer warranties of up to 2 years.