The revolutionary combination of Solar panels with Cooling system has arrived at Energis! Bonaire is an Australian company which has been providing homes with fresh natural air-conditioningfor over 60 years. New technology advancements have made it possible to produce a cooling system using solar at little or no cost.
Bonaire Pinnacle Solar Features:

Have your Bonaire system running all day at no cost

Provides additional solar power back into the grid, saving you money

Clean and healthy evaporative cooling compared with other air-conditioning systems

Standard 7 year warranty

Environmentally friendly
Quality ISO9001 accredited

Manufactured in Australia for Australian conditions
Bonaire is recognised worldwide for quality, durability and relatability
How does it work?
Ducted evaporative cooling is a whole of home solutions that allows you to cool the entire housing using just one system.
The outdoor unit is usually located on the roof of the home and installed on a dropper duct. Cool air is drawn from outside, passed trhough moistened filter pads then circulated trhoughout the home via a network of ducts.
A ducted evaporative cooling system delivers clean fresh, naturally cooled air trhoughout your home. Doors and windows are left open to exhaust the air. The clean filtered air leaves your home free of any contaminats.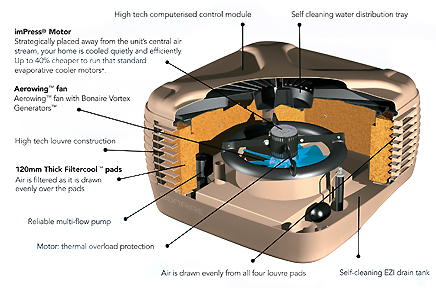 Bonaire Pinnacle Solar with Energis:
Bonaire's solar panel enhanced cooling option allows you to operate your pinnacle cooler in solar mode on lower fan speed until a higher cooling effect Is required. The clever option automatically switcher your unit to main electricity when the output of solar panel is not sufficient to run your cooler. The solar panel continues to generate power, even in Winter. This means the amount of electricity generated by the Pinnacle solar panel over a year is over two times the amount of electricity used by a Bonaire Pinnacle over a year.
The amount of electricity generated by the 260W Pinnacle solar panel over a year in Melbourne vs. the amount of electricity used by the Pinnacle operating for 300 hours per year in Melbourne.

The state of the art Australian made Pinnacle solar panel is installed on the top of the evaporative cooling unit and can be installed in all four directions to maximise the solar benefit. The unique patented rod and clamp mounting system securely attaches the solar panel to the cooler. The design has been proven in wind tunnel testing conducted by the University of Adelaide School of Civil Environmental and Mining Engineering. The solar panel is connected to an intelligent micro inverter that converts DC into AC power that is in turn connected to the cooler control box.
Get a free Quote:
Would you like to know more about this product? Call now to talk with our experienced consultants, or fill up the form below and we would get back to you within 24 hours.